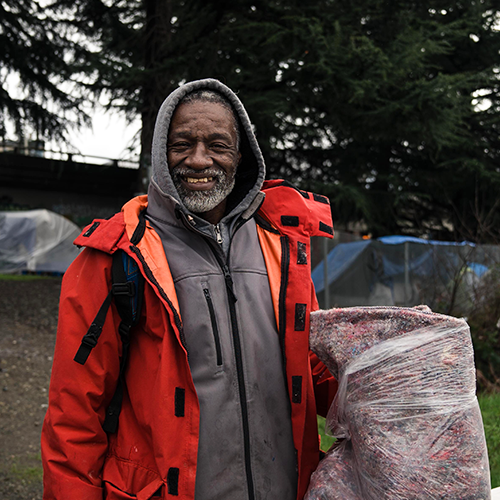 Search + Rescue
Give lifesaving protection against the freezing rain and bitter cold. Our team is out on the streets day and night, connecting with people in dire need. We provide emergency help — a warm blanket, dry socks, and snacks. By building relationships and identifying and addressing the needs of our homeless neighbors, we help move them out of homelessness and into the lives that God wants for them.
Your gift helps our homeless neighbors living on the street. Our team has worked with Jessica* for over 6 months. While she was on the street she became pregnant but was still addicted to drugs. Recently, she happened to be in the area and stopped to tell us that she had a baby boy and is staying clean so that she can be a good mom. She is currently staying at a shelter and is very happy not to be on the streets anymore.
*Name changed
---
Your gift is our commitment. Your gift is a sacred trust. We promise to honor your generosity and use your donation in the most effective way possible. The gift options shown reflect Mission programs and the suggested donation amounts are based on the actual cost per person served. Each item is representative of the gift category in which it appears, and donations will be used to provide assistance within that gift category where it is needed most.
Or, give a gift of any amount to make an impact. Your generosity will meet urgent needs, and help those who are lost — struggling with homelessness, addiction, and feeling utterly alone and isolated — become found.