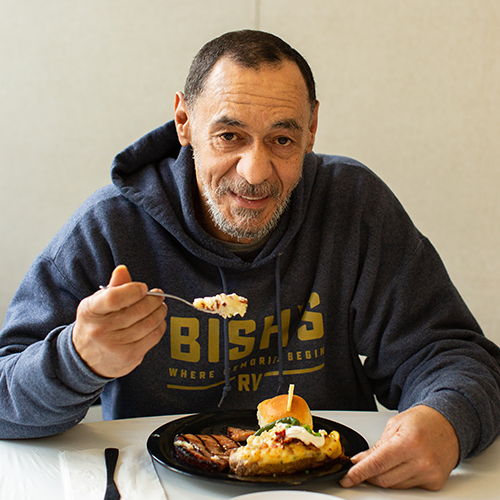 Lifesaving Meals & Care
For Seattle's homeless and hungry, this gift shows love and compassion to a hungry man, woman, or child by satisfying their hunger. Each $2.54 you give will provide a hearty meal and care.
Your gift helps someone like James.
"I was homeless for about a year and a half, eating out of garbage cans," he says. "I went through a winter snow without any coats, thought I was going to die. Then when I woke up the next morning, I was angry I didn't die."
Getting something to eat was a constant problem. "I would look for food. I would beg for change," he says. "When you go without food, your whole body hurts. You can't move. You can barely walk. You have an emptiness that you cannot fill." Today, James is grateful to be able to follow his passion for cooking and helping others, while growing in his faith. He went through the Mission's Culinary Hospitality Internship Program, where he not only honed his culinary skills, he also continued his Bible studies and learned how to care for others.
When he cooks for others today, he focuses on the people and spreading the love of Jesus Christ. Watching people as they ate one day, he says, "All these people were just bedraggled and just ignored by society. But they were so happy. I knew at that moment that's what I wanted to do. I wanted to help these people out. I realized that a meal could change everything."
---
Your gift is our commitment. Your gift is a sacred trust. We promise to honor your generosity and use your donation in the most effective way possible. The gift options shown reflect Mission programs and the suggested donation amounts are based on the actual cost per person served. Each item is representative of the gift category in which it appears, and donations will be used to provide assistance within that gift category where it is needed most.
Or, give a gift of any amount to make an impact. Your generosity will meet urgent needs, and help those who are lost — struggling with homelessness, addiction, and feeling utterly alone and isolated — become found.