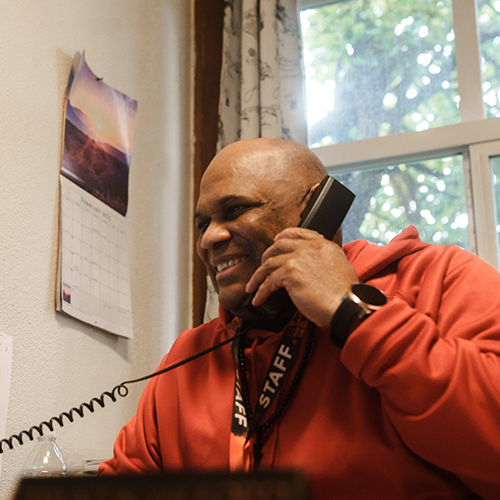 Job Training
Job training helps remove barriers to a fresh start. We are committed to meeting men and women where they are and helping them get to the next step. In many cases that "next-step" can be re-learning basic academic skills such as math, English, reading, and computer skills.
Some of our program participants are college-educated and our goal is to help them with resume preparation and job interview skills. By the time a man or woman leaves our recovery program, he or she is poised for employment.
Your gift helps someone like Steven find a new job. 
In 2019, Steven left his job, became homeless, and began using heroin.
"I just know that I wanted to stop using," he said. "I had lost everything: my vehicle, my family, [and] my girlfriend kicked me out. I just didn't want to be there no more."
Seven weeks later, after seeing his life start to spiral, he reached out to the Mission for help. Today, he's celebrating his recovery, working a new job, and giving back to others.
"I help people," he said. "I help people without expecting in return, and that feels pretty good because I've taken for so long."
---
Your gift is our commitment. Your gift is a sacred trust. We promise to honor your generosity and use your donation in the most effective way possible. The gift options shown reflect Mission programs and the suggested donation amounts are based on the actual cost per person served. Each item is representative of the gift category in which it appears, and donations will be used to provide assistance within that gift category where it is needed most.
Or, give a gift of any amount to make an impact. Your generosity will meet urgent needs, and help those who are lost — struggling with homelessness, addiction, and feeling utterly alone and isolated — become found.